Google recently announced that it is introducing a new 3D / Augmented Reality technology for its search engine that will allow customers to see 3D renderings of a number of visual product results.
Users will also be able to place these into the real world through their phone cameras, using AR.
According to the tech conglomerate, brand partners from the world of fashion, tech, mobile phones, automobile and more, will be making their products available for the search enhancements results.
The new feature was announced at Google's developer conference recently alongside a flurry of other developments such as extended privacy, new smart speaker features and more.
In the demo shown by Google, A customer searching for a pair of New Balance shoes, for instance, will come across a visual search result that has the option of a "view in 3D" button. When tapped this will transform the image into a three-dimensional rendering that can be moved by swiping on the phone screen.
Another tap on a "view in your space" button pulls up the user's phone camera and drops the sneaker into their immediate environment using AR technology. The user can then move closer to the sneaker and see it from different angles by walking around it and visualizing the product in greater detail for it's features.
With the new launch, Google makes it easier for retailers to tap into AR technology by offering the service directly through its search engine, with no additional development beyond the 3D rendering needed by the brand itself.
The Blog Post from Google Updates website mentions
" Helpful new visual features in Search and Lens
Sometimes, the easiest way to wrap your head around new information is to see it. Today at I/O, we announced features in Google Search and Google Lens that use the camera, computer vision and augmented reality (AR) to overlay information and content onto your physical surroundings -- to help you get things done throughout your day.
AR in Google Search
With new AR features in Search rolling out later this month, you can view and interact with 3D objects right from Search and place them directly into your own space, giving you a sense of scale and detail. For example, it's one thing to read that a great white shark can be 18 feet long. It's another to see it up close in relation to the things around you. So when you search for select animals, you'll get an option right in the Knowledge Panel to view them in 3D and AR.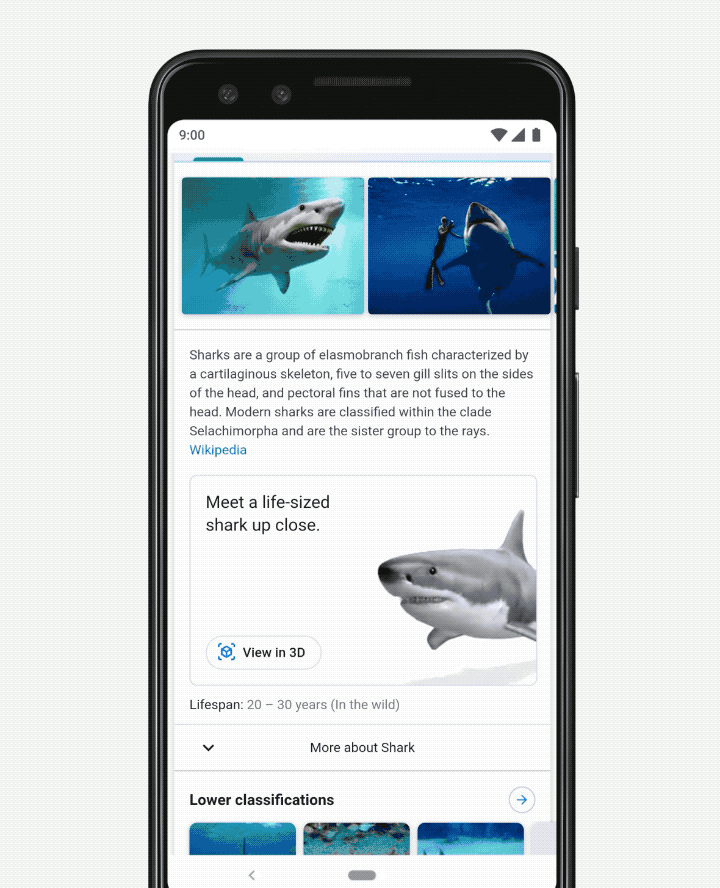 We're also working with partners like NASA, New Balance, Samsung, Target, Visible Body, Volvo, Wayfair and more to surface their own content in Search. So whether you're studying human anatomy in school or shopping for a pair of sneakers, you'll be able to interact with 3D models and put them into the real world, right from Search.