One of the industry best practices to rank for thousands of keywords is regularly update the Blog section of your website with quality articles and focus keyword.
In addition to improving the domain authority of your site to some degree, you are also constantly sending out signals to Google that your site is active and up to date.
With a proper keyword strategy in place and a strong internal linking among your blog posts, adding articles to your site certainly enhances the visibility of your site in the eyes of search engines.
With so many keywords that have significant search volumes, the question is how to zero in on a focus keyword for a particular blog post?
This is the exact question this article aims to answer.
What Is Focus Keyword?
Focus keyword is that single term from the list of possible keywords that you most want your page to rank for.
This keyword sits at the top of the pyramid and gets… Well all the focus.
One of the leading SEO plugins, Yoast (about which I will talk about extensively in this article) even has a separate field for focus keyword.
The plugin then evaluates your entire page (blog post) based on the focus keyword you have selected.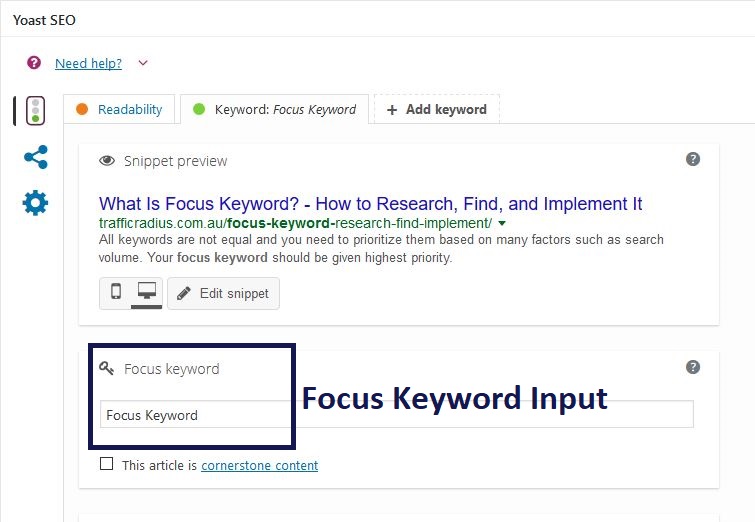 Keywords Vs Search Queries
Although keywords and search queries are often used interchangeably, there's a vast difference between the two.
While keywords are targeted by SEO specialists, search queries are the actual search terms that end users enter in the search engines.
Another difference is that search queries originate in the minds of the users and SEO specialists use search queries as a basis to target the right keywords.
So based on your keyword research, you should ideally target 4-5 keywords per blog post as your primary keywords.
It's also a good practice to target long tail keywords that can be almost impossible to target within the copy of your website.
With the Yoast SEO plugin, you can target several keywords that are based on your focus keyword by using the Yoast Suggest feature.
It's based on Google Keyword Suggest tool and uses the same data obtained by tracking millions of searches world wide.
For longtail keywords, I suggest public forums such as Quora and Answer the Public.
These platforms are full of questions that reflect the thinking pattern of your potential customers.
They can also be a great place to get blog topics and ideas.
Your Focus Keyword Should Also Be Based on Search Volume
Once you have found a bunch of keywords that you would like to target within a page or a post, you should then find out the search volume for each of the keywords.
After all, there is no point in targeting a keyword if there aren't much takers for it.
One of the most effective way to search for search volume is to create an AdWords account.
It's easy and highly reliable.
All you have to do is start bidding on the keyword of your choice so Google can display accurate search volumes.
You don't have to really pay Google for getting this far on their tool.
If you find AdWords a bit too complicated, you can always try Google Trends.
This is not as accurate as AdWords and only gives you comparative data between 2 or more keywords.
When compared right, you can still use these numbers to arrive at your focus keyword.
Finding Approximate Search Volume From Older Posts
Look for older posts that rank well for the targeted keywords.
With these posts you can find the search volume for each of the keyword that the posts rank for.
You then use Google Trends to find out the comparative search volumes for your new keywords.
This should give you an idea about how popular each of your targeted keywords are and based on that you can choose your focus keyword.
Let's say my one of my earlier posts was about the New York Stock Exchange.
My focus keyword for the post was Blue Chip Stocks.
I found that this particular post performed very well. I can easily find the search volume for my post.
Now if I compare the search volumes of two of my targeted keywords for new post with this old keyword, I can predict the search volume for each of my new keywords.
In addition to this, for long tail keywords where search volume is not a very significant factor, you could directly compare two such keywords using Google Trends.
Search Each of the Shortlisted Keywords to Finalize Your Focus Keyword
So far we used quantitative methods to determine which of the keywords from the set of search terms are performing better.
Now we will use qualitative method to determine how relevant is your keyword to the requirements of your readers.
One way to do this is to first search the shortlisted keywords on Google.
Then carefully go through all the results on the first two pages of SERP.
Read each of the pages or posts about each of the keyword you are analyzing.
Does your post add value to the readers who have contributed to good ranking of these pages?
Have these posts missed any of the key points that you can target?
How can you make your post original and better than the posts that are already ranking well?
Based on your observations, you will be able to finalize on one keyword from your list that will give you enough scope to make your post highly relevant and informative.
By optimizing your page or post to the keyword that has the same search volume, covers the same niche, and yet gives to the opportunity to offer additional value that was hitherto not provided, you are clearly giving yourself the advantage over other sites.
A Focus Keyword For Every Page
Assuming that you are referring to a typical website that has the standard structure, it is fair to say that every page on your site need not have a focus keyword.
Remember, the function of the focus keyword is to provide information about a specific topic within your niche.
The very idea of writing blogs for your website is to target those keywords that cannot be targeted within the main pages of your site.
For example, your "Contact Us" page need not rank for any keyword except "Your Company Name Address" or "Your Company Name Email".
Think if there's any value to your readers or visitors from the focus keyword you want to target.
If your answer to this question is no, then don't bother about including a focus keyword.
The Bottom Line
There are so many parameters involved with choosing the right focus keyword that sometimes it's not as straight forward to choose the right keyword as it seems.
However, with diligent implementation of all the steps mentioned in this article you will come close to finding the right focus keyword.
Remember, there's no one size fits all approach to this process.
As you move on further, you will come with ways and means to fine the process outlined here and this is only the starting point.
If you are not sure about implementing any of the steps outlined in this article or if you have a ground breaking idea about finding the right focus keyword, feel free to use the comments section below and I'll get right back to you.
Good luck!